Latest News
Details
Ladies & gentlemen, let us present you our new signing: Dance My Darling joined the darkTunes family! Hellcome!
DANCE MY DARLING is a darkwave / synthpop / darkpop band from Moscow (Russia). The long ringing of the funerary bell, the rumbling of the heavy boots of the conqueror and the silent, melancholic noise... We're going to release their debut album "Apoda" on June 12th. 2020, so stay (dark) tuned and be ready for a great album...
Details
☣28 DAYS LATER - JOHN MURPHY COVER ☣
Our electroheads are back with a new single and music video! We're proud to present "In the House, In a Heartbeat [JOHN MURPHY Cover]" taken from the movie "28 Days Later". Enjoy this dark electro cover such as its music video! You can get the single here:
Details
Dear Witch House lovers, check this EP & video out!
CIMA MUTA are finally back with a brand new EP & music video! Enjoy "Momentum" which will take you into a journey in a mystic world... You can get the EP here:
Details
XORDIA - STAINED - The new single & video taken from the upcoming album "Neolux"(release on June 5th.)
The neon light revolution is coming. It's the dawn of a new era. Everything you believed in is no longer relevant. Welcome to a nu-metal science fiction story set in a cold and threatening cyberspace environment, which serves as a breeding ground for the energetic anthems of this new album.
End Time Metal, a powerful female voice, groovy Nu-Metal riffs and madhouse industrial synths unite on "Neolux" to an explosive sound cocktail. As in a good book, XORDIA's metalheads make sure that the 12 tracks they recorded never lack the momentum necessary to build up suspense. With "Neolux" they created a futuristically catchy and shrill, but still extremely profound piece of contemporary ar, which sounds as if WILLIAM GIBSON had thrown a few pills and then invented Industrial Metal.
Overall XORDIA present with their first album "Neolux" in 2020 a captivating mix of electronic melodies à la CELLDWELLER and GUNSHIP, groovy guitars in the style of KORN, heavy beats and breakdowns reminiscent of IN THIS MOMENT, and combine these effectively with Alyn's versatile vocals.
When the stroboscope flashes dance like crazy through the neon-soaked night of the modern metropolis, the Swiss celebrate their dystopian dance. And lead the listener equally threatening and thrilling into the depths of the human psyche. At times thoughtful and spherical, at others hard and relentless, they invite you to forget everything for the moment. With "Neolux", the five-piece group definitely turns on a new light in the Metal sky.
Details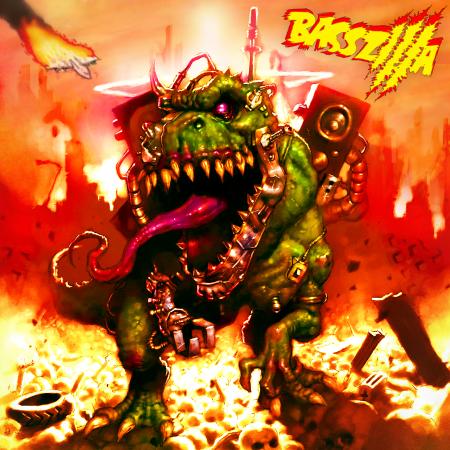 Our bass monster is back with a new single and music video!
The song "RetroGods" is taken from his upcoming double album "Support Your Local Apocalypse Dealer" which will be released on May 22nd!
👉 https://smarturl.it/Basszicalypse
From the depths of the electro-swamps the monster arises another time: BASSZILLA is awakened once again! The king of monsters is stomping relentlessly across the dancefloors of Death Electro, Complextro, Nu Rave and Dark Techno with industrial house influences and presents itself darker and more grimly than ever before. Since the monstrous music-project (awoken by the Extize frontman) has charged the clubs for the first time in 2014 and after three releases and some memorable DJ Sets, like the one with WESTBAM among others, the dancefloors around the globe are still burning. But like in every good monster-story it also applies to BASSZILLA: The evil does never sleep! And so, it is clear that also this time the bass-monster awakes to life again and causes an electro-quake extraordinaire with his new album "Support Your Local Apocalypse Dealer".
Twenty tracks influenced by bands like CYBERPUNKERS, DIRTYPHONICS, INFECTED MUSHROOMS, OWL VISION, GESAFFELSTEIN and NERO are shaking the dancefloors to the very foundation and bring the party-crowd to dance like mad! The beauty and the beast can go hom, because you will also find an awesome featuring with the darkpop queen of OMNIMAR on this album. Again, BASSZILLA provides us with monstrously good temper and easily manages it to promote the evolution of his own style without losing his unique sound.
Mankind has failed in stopping BASSZILLA with conventional weapons, this monster of the beats is no ordinary one: He is BASSZILLA, hear his bassline roar! Nobody can escape the bass-beast and whoever loves electronic sounds will surely not be able to elude from the deep rumble and screams of BASSZILLA on his new album!
FORMATS: 6 sided digipak with 2 CDs (limited to only 200 units worldwide), girly collector bundle, man collector bundle, download and stream.