Latest News
Details
The new AEVUM video is here! It's called "A Spark of Life" and it's taken from their new album "Multiverse".
Welcome to the Multiverse, where epic Tunes and electronic elements encounter hard Riffs, and where the charming voices of Lucille Nightshade and Hydra are carrying the ears and hearts of their fans from the third to another dimension.
The members of AEVUM from Italy and France have, since their foundation in 2012, developed a musical style that always was bound to their strong influences of Symphonic Metal, yet breaking the bonds of the genre, by thinking outside of the box.
The glorious new album of AEVUM is named "Multiverse" and follows the footsteps of Bands like NIGHTWISH, WITHIN TEMPTATION, EPICA and more. Love and affinity towards symphonic Sounds, lifeblood, imaginativeness and much more has to be mentioned to handle such a task. And yet, the 8 musicians from France and Italy undeterredly follow that path, while they are firing a salvo of 13 powerful tracks consisting of guitar-riffs meeting skincrawling orchestral and electronic elements.
AEVUM are integrating themselves seamlessly into the force of nature of symphonic metal. So, who doesn't miss to listen to "Multiverse", will surely find a lot of enrichments for his personal favourite-list.
Get the new album MULTIVERSE as digipak, collector bundle or download  and stream here:
Details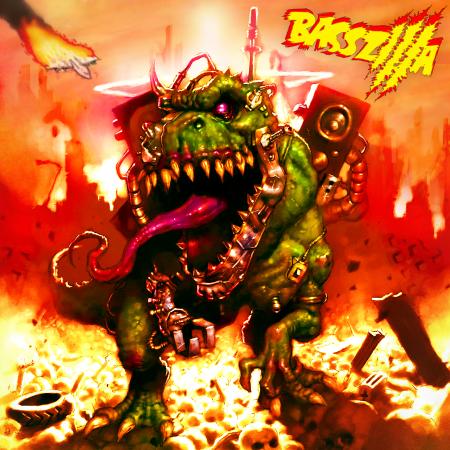 🔥 BASSZILLA - SUPPORT YOUR LOCAL APOCALYPSE DEALER 🔥
The bass monster is back with a new double album and a music video!
👉 https://smarturl.it/Basszicalypse
From the depths of the electro-swamps the monster arises another time: BASSZILLA is awakened once again! The king of monsters is stomping relentlessly across the dancefloors of Death Electro, Complextro, Nu Rave and Dark Techno with industrial house influences and presents itself darker and more grimly than ever before. Since the monstrous music-project (awoken by the Extize frontman) has charged the clubs for the first time in 2014 and after three releases and some memorable DJ Sets, like the one with WESTBAM among others, the dancefloors around the globe are still burning. But like in every good monster-story it also applies to BASSZILLA: The evil does never sleep! And so, it is clear that also this time the bass-monster awakes to life again and causes an electro-quake extraordinaire with his new album "Support Your Local Apocalypse Dealer".
Twenty tracks influenced by bands like CYBERPUNKERS, DIRTYPHONICS, INFECTED MUSHROOMS, OWL VISION, GESAFFELSTEIN and NERO are shaking the dancefloors to the very foundation and bring the party-crowd to dance like mad! The beauty and the beast can go hom, because you will also find an awesome featuring with the darkpop queen of OMNIMAR on this album. Again, BASSZILLA provides us with monstrously good temper and easily manages it to promote the evolution of his own style without losing his unique sound.
Mankind has failed in stopping BASSZILLA with conventional weapons, this monster of the beats is no ordinary one: He is BASSZILLA, hear his bassline roar! Nobody can escape the bass-beast and whoever loves electronic sounds will surely not be able to elude from the deep rumble and screams of BASSZILLA on his new album!
FORMATS: 6 sided digipak with 2 CDs (limited to only 200 units worldwide), girly collector bundle, man collector bundle, download and stream.
Details
💀DARKTUNES E-FEST #1 - GOTHIC EDITION 🦇
🔥14 BANDS - 8 INTERNATIONAL DJs🔥
🎤Free online festival for animals protection & bands support🙏
▶ JUNE 6th. 2020 🇪🇺18:00 CET (Europe) / 🇺🇸12:00 EDT (USA) / 🇷🇺19:00 MSK (Russia)
---------------------------
❓WHERE❓
The festival will be live on the following darkTunes channels only, make sure to subscribe/follow us here:

💥TWITCH (good quality) (after party with the DJs only on Twitch)
👉 https://www.twitch.tv/darktunes

💥YOUTUBE (good quality) (no after party here)
👉 http://www.youtube.com/user/darkTunesTV?sub_confirmation=1

💥FACEBOOK (medium quality) (no after party here)
👉 https://www.facebook.com/darkTunesMusic/
👉 Event page: https://www.facebook.com/events/275987226931571

---------------------------
❓WHY❓
Due to the actual covid19 crisis, it's a very hard time for everybody, for example for the artists who are not able to make live shows or to tour any more… But it's not only hard for bands and the actors of the cultural scene, many other sectors need help like the animal protection sector… Actually animals shelters are full because too many people decided to abandon their animals, and due to the social distancing, it's very hard for people to adopt these pets… Also, due to the financial crisis, the animal shelters which work with donations only, got less donations than usual and some of them are unfortunately not able to save new animals any more cause they are full and at the end of their ressources.

That's why we've decided to use the reach of this festival for a good cause: if you can and if you want, we invite you to make donations via the Tipeeestream link below. The first half of your donation will go to the animal shelter « Tierschutzverein Heidelberg » and the second half will go to the bands you're going to see during this festival.

❤❤❤ DONATIONS ❤❤❤
👉 https://www.tipeeestream.com/darktunes/tip

---------------------------
❓WHAT / PROGRAMM❓
During this festival, you're going to see 14 unreleased live shows and interviews of our darkTunes gothic bands. The festival will be presented by the lovely DJane MAUS (Sherri Maus) from the world wide number 1 gothic podcast/radio Communion After Dark and Obscura Undead. After the festival there will be an after party with 8 International DJs. Warning: the afterparty will be on our Twitch channel only!

🎹BANDS 🎤
TOAL / ASHES'N'ANDROID / BLACKBOOK / Extize / Darkcell / Aevum /Dust In Mind / Auger / CattaC / SynthAttack / Omnimar / THIRD REALM / Freak Injection / Basszilla

🎧DJs (Afterparty on Twitch only) 🎧
Emanuel Pursuit (Germany) (paradox.) / DJ Paradise (USA) (Communion After Dark) / DJ Psyklon (Mexico) (Psyklon Industries) / Dj ChavakiaH (Belgium) / DJ Led Manville (Spain) / DJane Maus (USA) (Communion After Dark) / DJ Wicked Goth (USA) (Afterdark Resurrection) / Scott Durand (USA) (Dj Scott Durand - Dark Indulgence Industrial Mixshow)

---------------------------
🤘PARTNERS🤘
DarkMerch (you can also support our bands here and buy some merch and CDs)
👉 https://www.darkmerch.com

Communion After Dark
👉 http://www.communionafterdark.com

Paratronix
👉 https://www.twitch.tv/paratronixtv
Details
Ladies & gentlemen, the DarkMerch face masks are here!
Face mask with inner PM2.5 filter pocket and front print (exclusive designs such as darkTunes bands designs)
A new filter can be easily be replaced in the mask after each use. The filters are not included, but you can use any type of filter. Just insert the protection filter along the opening inside the mask. (It is recommended to change the filter once a day). Of course, the mask can also be worn without a filter.
DarkMerch donate 1€ per sold mask to an animal protection shelter.
- High quality breathable cotton, soft and comfortable to wear
- Color: Black
- Weight: 10g
- Width: approx. 27cm (incl. earloops) in unstretched form. Strechable up to approx. 50cm
- Length: approx. 12cm in unstretched form. Strechable up to approx. 16cm.
- The mask is suitable for every face size, including wider faces
- Filter not included
Chose your mask now on www.DARKMERCH.com
Details
Hell yeah! The new AUGER album "Insurgence" is OUT NOW!
The end of days is upon us all. The world as we know it has perished into a state beyond repair by a fire fuelled by greed, corruptness and power. When all hope seems lost, one spark remains - in the eyes of those in Team AUGER!
The 14-tracks on this album tell tails of loss, destruction, alliance and overcoming. Broadcasting a message that by joining together, the insurgence will be strong enough to take back what was stolen, and find justice for all that was lost in the flames of their abuse.
AUGER's surging development is apparent in this, the latest instalment of their story. The album plays at full throttle from start to finish. Fusing throaty guitars with dancing synth melodies and wrapping them up with clean, incandescent vocals is how insurgence shows AUGER continues to bend the rules of genre specificity. The dramatic, high-energy soundtrack is fit for fans of LORD OF THE LOST, ZEROMANCER, BLUTENGEL, DIARY OF DREAMS, THE HORRORS and PARADISE LOST. And that's not all, as you'll be pleasantly surprised to hear heavy influences from the eighties, with melodies reminiscent of bands such as THE CURE and DEPECHE MODE.
It's all this that makes this electronic-infused dark rock album, something truly special and AUGER are incredibly proud and excited to share it with you all. Will you join the insurgence? Will you stand with us and rebuild this world to be a more inclusive, sustainable and positive environment? Together, we will be successful. Together, we are AUGER.
Get this masterpiece now as download, stream or limited digipak: